Important Notice:
[Reserve your seat for – One to One DAF Analysis with Mr. Bibhash Sharma, Director, Elite IAS Academy. Online (Skype or Zoom) and Offline (GTB Nagar & Karol Bagh Centre). Call/WhatsApp: +918588883939 or Email: online@eliteias.in]
UPSC (Civil Services Exam) Interview 2022 is scheduled to begin from (January 30, 2023) in two sessions i.e. in Forenoon at 9 AM and in Afternoon at 1 PM. Total number of candidates called for UPSC interview 2022 is 2529. E-admit cards (e-Summon) for the UPSC interviews will be released soon. No paper Summon Letters will be issued for the Personality Tests (Interviews) by the Commission.
IAS Mock Interview – 2022 (Schedule for UPSC Interview, January 30, 2023)
Personality Tests for Civil Services (Main) Examination, 2022. On the basis of the results of the Civil Services (Main) Examination, 2022 held by the Union Public Service Commission from 16th September 2022 to 25th September 2022. The candidates qualified for the Personality Test (Interview) will have an opportunity to get selected for service of Indian Administrative Service, Indian Foreign Service, Indian Police Service and other Central Services (Group 'A' and Group 'B'). This article is intended to provide you some relevant exposer for IAS Interview 2022.
Remember, IAS Interview questions raised by Chairman or board members are purpose oriented. They want to extract your behavioural pattern, communication skill and overall personality traits. Framing the answer of question is a learned skill (you need to develop it) – it contains appropriate words, language or gesture, even combination of all.
At this stage, candidate can have Free DAF analysis session online with Bibhash Sharma, Director, Elite IAS Academy via Skype or Zoom for Civil Services Interview-2022.
For Appointment call: 8588883939 or Email: online@eliteias.in
The UPSC Personality Test is the most significant stage which checks the last determination of an aspirants. It isn't proposed to be a trial of specific information as this is as of now tried in the previous stages. The IAS interview is a test of mental readiness, clear and legitimate composition, character, equilibrium of judgment and profundity of interest, capacity of social attachment and initiative, and scholarly and moral honesty.
The UPSC Interview board comprises of specialists of different fields having a wide encounter of around 20-25 years in the specialized segment. You may think you are actually solid as you have cleared Mains, however whatever you have learned till now is scholarly information, yet they will stretch you on reasonable application. The Interview can have the effect between getting an offer and getting dismissed.
The UPSC IAS Interviews are identified with introduction stage. It won't upgrade subject information however technique for introduction of the candidate.
The procedure that is being followed at UPSC isn't severe interrogation however immediate and purposive discussion, which will uncover the psychological characteristics of the competitors.
Along with the Detailed Application form (DAF), certain number of certificates are required for the UPSC Personality Test.
The required certificates are:
Original Matriculation/Higher Secondary/equivalent certificate or Marks Sheet
Degree or equivalent certificate in original
Scheduled Caste/Scheduled Tribe/Other Backward Classes certificate in original
Physically Handicapped Certificate
Physically Handicapped Certificate
The Questionnaire, regarding background information, duly filled in and signed by you
Two passport size photographs (4cm. X 5cm. approx.)
Print out of call letter
Necessity of Mock Interviews: –
The IAS interview should be attended with complete comprehension of talking an ability along with all abilities, readiness and practice upgrade the nature of that expertise. The mock interview is information upgrading stage.
In the Prelims and Mains phase of UPSC preparation, the aspirants learn basic academic concepts. But the Personality test demands the ability to comprehend with the reasonable application. For this purpose, the aspirants need direction from specialists who can prepare you well.
The interviews can be terrible. But there are explicit and significant systems to upgrade one's odds for talk with progress. However, in the event that you utilize our tips and get ready appropriately with proper guidance you will have the option to defeat the numerous obstacles a questioner can put in your manner. The ideal is to find some kind of harmony between quiet and excitement.
After you have been chosen for a task, the opportunity arrives for a vital meeting. You may think it is senseless to do talk with planning, yet it isn't so! The greatest error in meeting isn't by and large completely arranged.
You can also read: Top IAS Interview Question and Answers
EliteIAS IAS Interview Guidance Program: –
EliteIAS IAS offers special guidance program specifically designed for the UPSC Interview.
It stresses on improving individual inclination of introduction, upgrading relational abilities, scholarly capacity and relational abilities. remarkable approach to get ready for interviews.
It will likewise incorporate balanced conversation with our accomplished and profoundly presumed specialized and Psychological specialists to assist the aspirants with comprehension.
This will bring about improved execution of the UPSC candidates in the Interview.
We will show you how to deal with interviews and improve your Interview strategy to expand your odds of being the effective applicant.
We will assist you with obtaining capability in the specialty of confronting interviews.
EliteIAS provides complete guidance comprising the information angles comparable to your profile information.
The aspirants will be guided to focus on refining applicants' methodology, mentality and inclination to dominate as a part of UPSC's character test.
EliteIAS Interview Guidance Program consists profoundly qualified board of specialists the recommend novel methods of correspondence, introduction and non-verbal communication.
It also assists the aspirants to uptake the right approaches to project their answers while confronting board individuals at Interview.
Features
Real-time UPSC interview environment
Discussion on DAF & personal profile
Practicing Previous interview questions
Focus on refining Interests, Degree Project, Extra & Co-curricular Activities, Hobbies, etc.
Tips to face interview
Technical sessions
Personality Development & HR Sessions
General Awareness and Current Affairs
One to One discussion with experts
Video recording of Mock Interviews and feedback analysis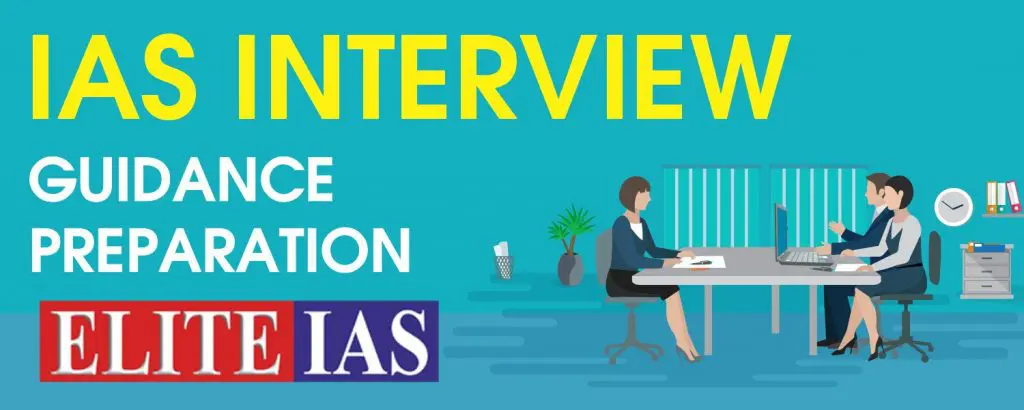 Though the Interview is the last stage to be cleared for the IAS exam, it is advisable to be aware of the know-how of how to face it successfully right from the beginning of the preparation itself. Usually, a beginner is not aware of the exact significance of the Interview. Don't worry, we at Elite IAS conduct IAS mock interview.
The UPSC Interview puts the candidate under close scrutiny so much so that it is called the Personality Test. Thus, a few tips are required to understand the entire significance and the dos and don'ts to be taken care of while facing the UPSC Interview. Even before appearing in IAS mock interview of our coaching, you should be well informed about its intricacies.
Please read on to find quite a few important IAS Interview Tips to successfully face the IAS Interview that is also referred to as the IAS Personality Test/ IAS Exam Interview/ IAS Interview/ UPSC Personality Test etc. Besides, you will also find yourself better aware of the Civil Service Interview Questions, apart from a lot of other inter-related information.
Interview Guidance Programme 2022 is available at Elite IAS Academy. You need to fill the below-mentioned form along with your DAF. Our representative will call you with detailed information about the interview scheduled & procedures.